Team Home
PVAAU Girls Basketball
PV AAU 2018 Girls Basketball District Qualifier Information Update - 02-28-2018
2/28/18 - 06:16 AM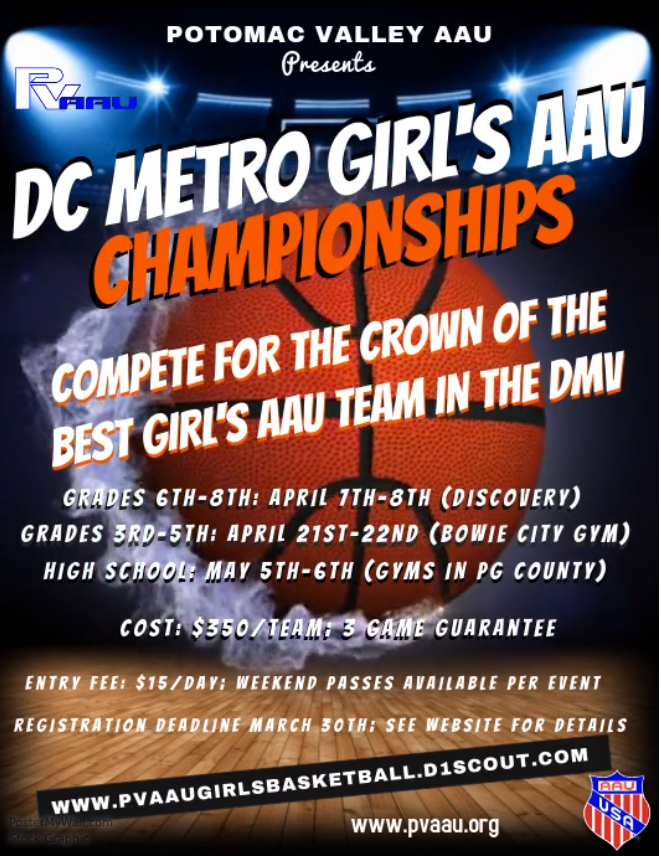 Girls 2018 PV AAU DQTs will be held in conjunction with the PV AAU Boys DQTs in April and May.
Complete details will be posted soon but here is a snapshot summary


Grades 6, 7, and 8 - April 7-8, Discovery Sportsplex, Boyds, Md (with Boys D1 event)

Grades 3, 4, and 5 - April 21-22, Bowie City Gym, Gwynn Park HS (with Boys D2 event)

High School - May 5-6, Douglas and Gwynn Park HSs (with Boys D3 and HS events)

Cost: $350/team, 3 game guarantee, Pool Play Saturday, Single Elim Bracket Sunday
Entry Fee: $15.day, Weekend Pass $20

Registration Information will be posted here soon (by 3-10-18) but will be simple like last year - turn in an official AAU roster and provide payment of entry fee. Coaches wil need to have their team binder for presentation at team check-in before the first game.





Tentative Registration Schedule where entries may be dropped off
March 17, March 24, March 31: Emory Rec Center DC 10a-4p
March 18, March 25: Gwynn Park HS 1-4pm
By Mail/Fedex etc delivered to PV AAU GIrls Basketball DQT, 5705 Mossrock Drive, Rockville MD 20852
MUST BE RECEIVED BY MARCH 25 IF MAILED
DRAW wil be held April 2nd at Forestville High School and schedules posted by April 4.
---